Für September wurde die Q&A-App, also eine Fragen und Antworten App, für Teams Webinare oder Meetings angekündigt.
Wenn Sie ein Teams Meeting oder eine Präsentation halten, haben die Teilnehmern evtl. Fragen. In kleineren Meetings ist es oft leicht, diese zu beantworten. In größeren kann es schon mal schwieriger werden. Fragen werden evtl. doppelt gestellt oder passen nicht richtig zum Thema.
Der Referent oder Organisator kann dem Meeting die Q&A App hinzufügen. Wenn die App gestartet/hinzufügt wird, erhalten die Teilnehmer einen zusätzlichen Reiter bzw. ein Symbol im Meeting. Durch das Anklicken können dort Fragen gestellt und beantwortet werden.
Der Moderator kann alle Fragen in einer privaten Vorschau sehen und sie entweder direkt während der Präsentation oder im Nachgang wie in einen Chat beantworten. Natürlich ist es auch möglich, diese durch einen Co-Moderator beantworten zu lassen. Durch die private Vorschau der Fragen beim Referenten/Co-Moderator können diese auch abgelehnt werden. Der Moderator oder ein designierter Referent hat die Möglichkeit, die Fragen zu veröffentlichen und anzuheften, so dass alle Teilnehmer sie sehen können inklusive der Antwort. Durch das Filtern und Veröffentlichen können die Teilnehmer diesen "Chat" auch im Nachgang durchsuchen. Gerade für große Meetings oder Schulungen ist dies bestimmt eine Erleichterung.  Mit der Applikation ist es auch möglich, Fragen vor dem Meeting zu stellen. So kann der Referent diese direkt in die Präsentation aufnehmen und beantworten.
Im Video "How to add Q&A to your Microsoft Teams meetings" erhalten Sie einen kleinen Vorgeschmack auf die Anwendung.
Es sind zwei weitere Präsentationsmodi in Teams ausgerollt worden. Den Modus können Sie während des Meetings wechseln. Den "Stand out" Modus mit der Silhouette im geteilten Bildschirm gibt es schon.
Nun wurden der "Side by Side"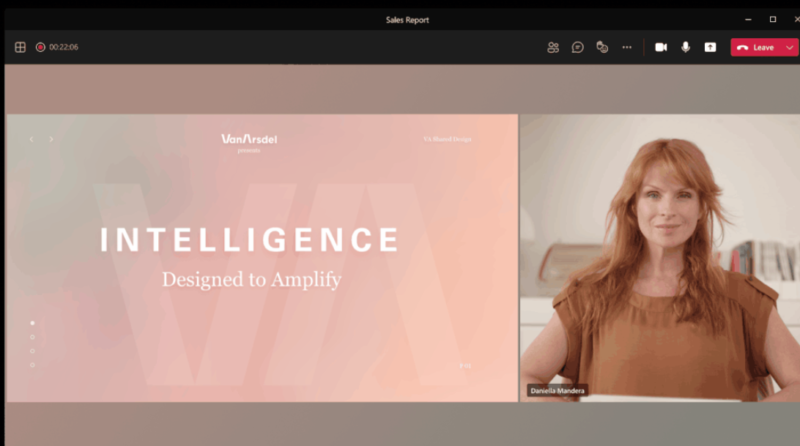 und der "Reporter" Modus ausgerollt.