Microsoft hat auch diesen Monat wieder einige neue Features auf den Weg gebracht. Einige sind bereits verfügbar, andere werden bald ausgerollt.
In Teams können Teilnehmer auch anonym bspw. über den Web-Browser an einem Meeting teilnehmen. Bisher konnten diese Teilnehmer sich auch am Chat beteiligen. Dies kann der Organisator bald ändern. In den Einstellungen kann er dann neben "Chat aus" und "für alle aktiviert" auch "Ein für alle, außer anonyme Benutzer" auswählen. Damit werden alle anonyme Meeting-Teilnehmer vom Chat ausgeschlossen. Diese Funktion ist bereits im Rollout.
Teams Premium ist eine zusätzliche Lizenz für Teams User, die mit einem Aufpreis von 7$/Lizenz verbunden ist. Mit der Zusatz-Lizenz erhalten Sie zusätzliche Features. Hierzu zählen das automatische Generieren von KI-Aufgaben, eine Liste wann Ihr Name im Meeting erwähnt wurde, eine Zusammenfassung des Meetings uvm. Die Liste der Funktionen wird nun noch erweitert um KI erstellte Sitzungsnotizen oder die Anzeige von Dateien, die mit dem Meeting im Zusammenhang stehen.
How to use Intelligent recap in Microsoft Teams Premium
Interessant ist -lt. Microsoft- "Wenn der Organisator einer Teams-Besprechung oder eines Liveereignisses für Teams Premium lizenziert ist, werden die Funktionen Liveübersetzung (für Untertitel), erweiterter Besprechungsschutz und erweiterte Webinare auf alle Besprechungsteilnehmer erweitert, einschließlich externer Und Gastbenutzer.
Externe Teilnehmer an Virtuelle Termine benötigen keine Teams Premium-Lizenz, um von Teams Premium erweiterten Virtuelle Termine zu profitieren.
Alle Besprechungsteilnehmer müssen lizenziert sein, damit Teams Premium von der Funktion "Intelligente Zusammenfassung" profitieren können."  Was alles in Teams-Premium enthalten ist und welche Voraussetzung hierfür gelten können Sie auf "Microsoft Teams Premium Lizensierung" nachlesen.
Für alle neu erstellten Teams und Teams Kanäle wird nun automatisch ein Reiter für Notes (by OneNote) erstellt. Der Reiter Wiki entfällt.
Standort anzeigen in Outlook im Web ist verfügbar. Somit können die User einstellen, ob Sie bspw. im Büro, im Homeoffice, oder unterwegs sind. Auch wenn Sie bspw. vormittags im Büro und nachmittags im Homeoffice sind kann dies so eingestellt werden. Die Zeiten hierfür können sich nicht überlappen. Gehen Sie hierzu auf Einstellungen (Zahnrad), evtl. auf "alle Einstellungen", Kalender, runter scrollen zu Arbeitszeiten und Standort. Dies wird auch bald für Teams verfügbar sein.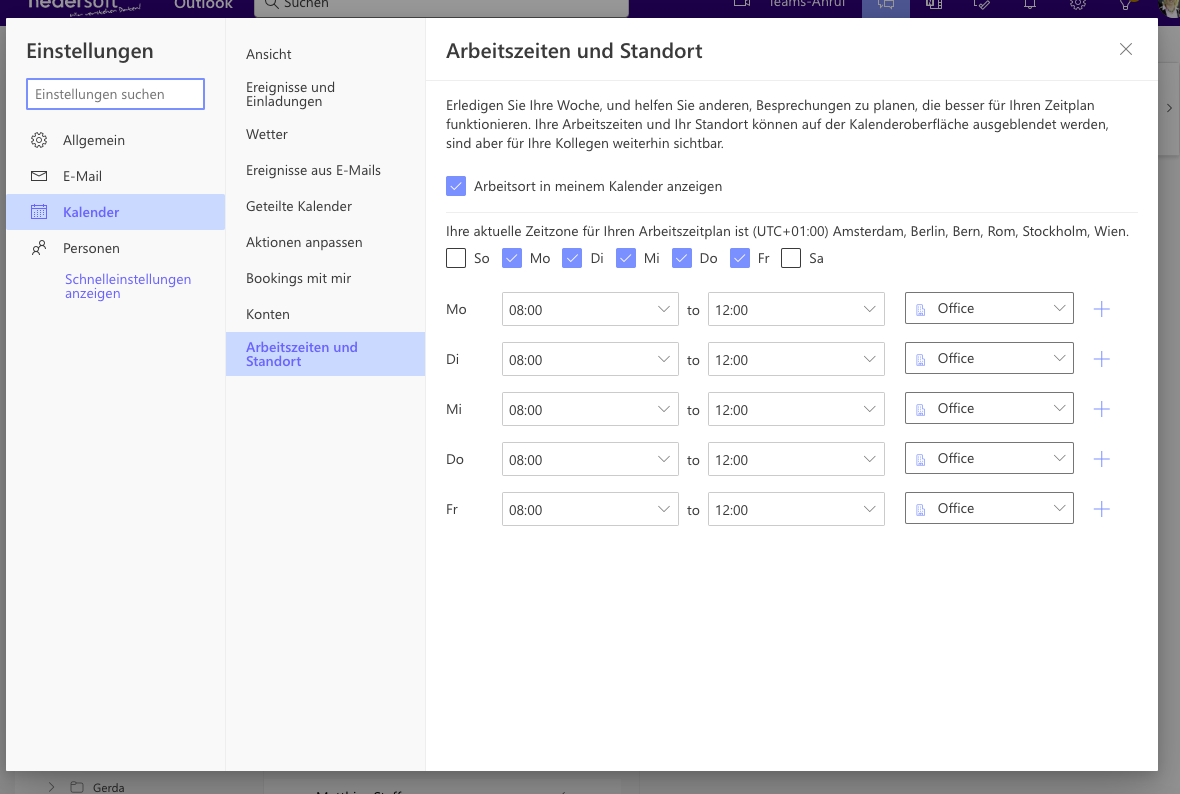 Teams Nachrichten in den Kanälen werden bald nicht mehr unten sondern oben im Bildschirm angezeigt. Außerdem können Sie unterscheiden, ob sie eine "Ankündigung" schicken oder eine "normale" Nachricht. Des Weiteren ist es möglich eine Nachricht in verschiedene Kanäle zu Posten.
Bei PowerPoint-Präsentationen in Teams können Sie demnächst mit einem Zoom Plus/Minus unten im Bildschirm näher ran zoomen.
Microsoft wird einige neue Hintergründe in Meetings zur Verfügung stellen, außerdem wird es einen Snapchat-Filter geben, so dass Sie Ihre Meetings lustiger gestalten können, bspw. mit einer Katze auf dem Kopf. Ob dies allerdings im alltäglichen Geschäftsmeetings nützlich ist, bleibt offen.
How to use Snapchat Filters in Microsoft Teams
Avatare in Teams  werden ab 01.Juli auf "Microsoft 365 Enterprise E3, Microsoft 365 Enterprise E5, Microsoft 365 Business Standard und Microsoft 365 Business Premium Lizenz." beschränkt und stehen nicht allen Nutzern zur Verfügung.
Zum Schluss noch einen kurzen Hinweis falls Sie Boards in Outlook im Web verwenden: Im Juni wird die Boardansicht eingestellt, dann können Sie nicht mehr auf diese zugreifen!